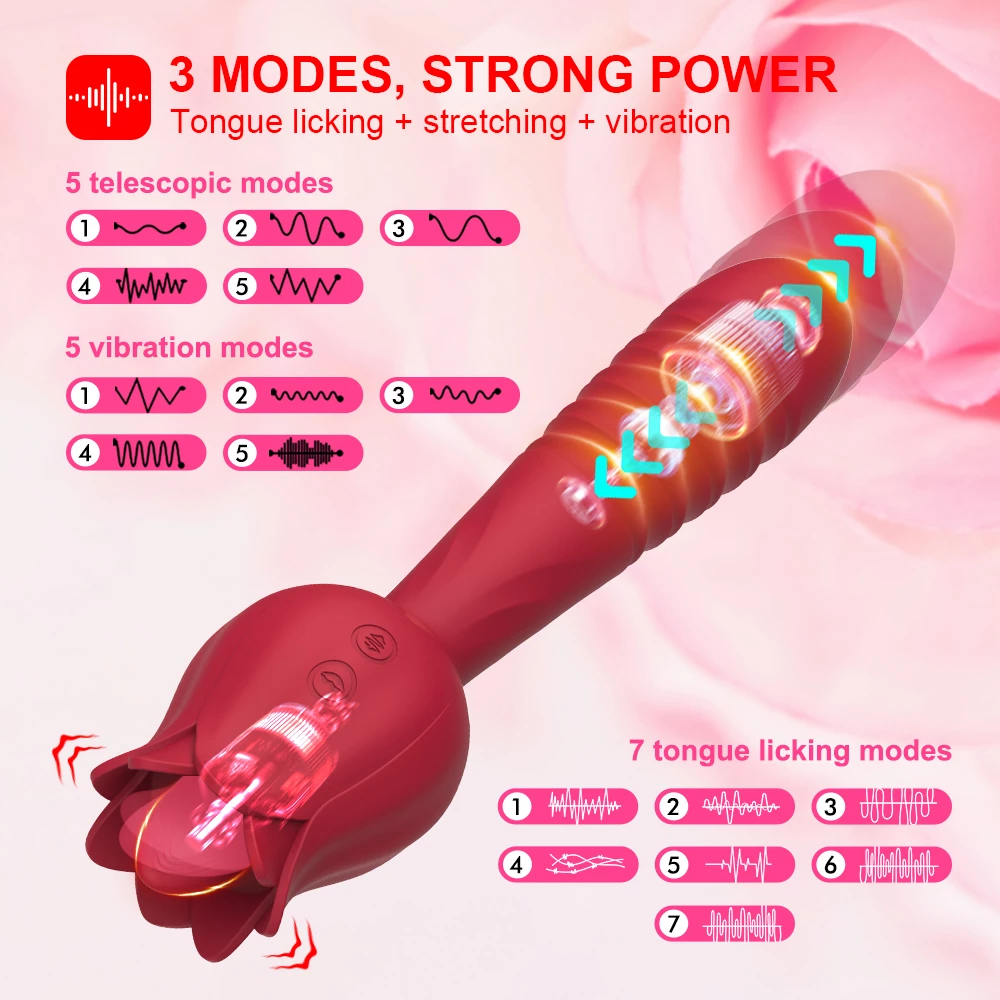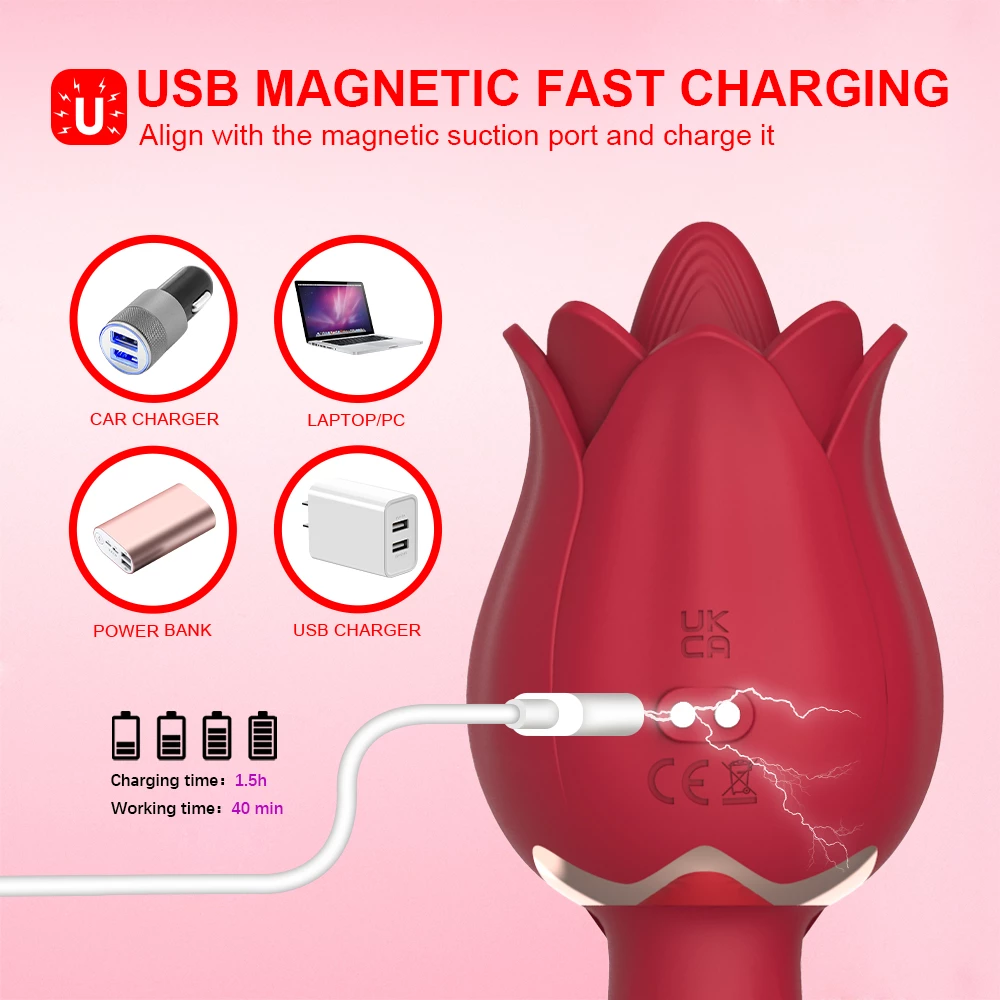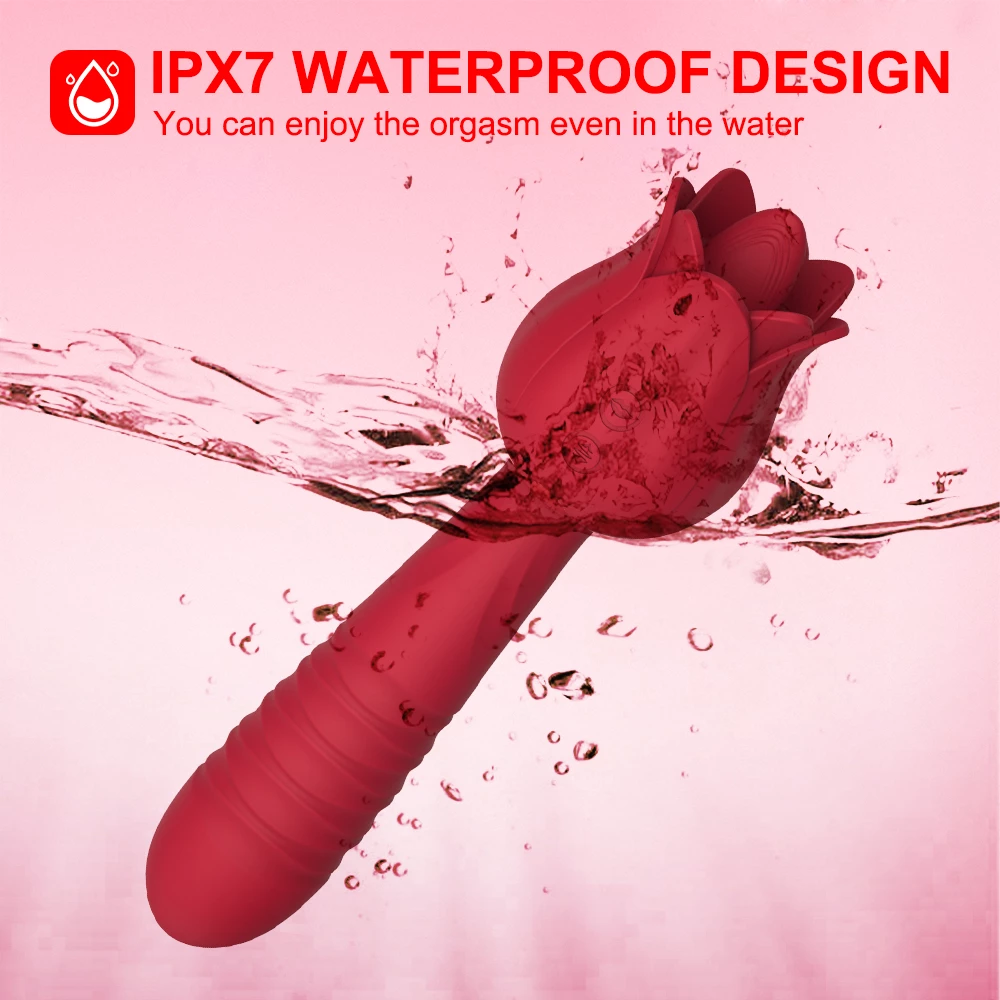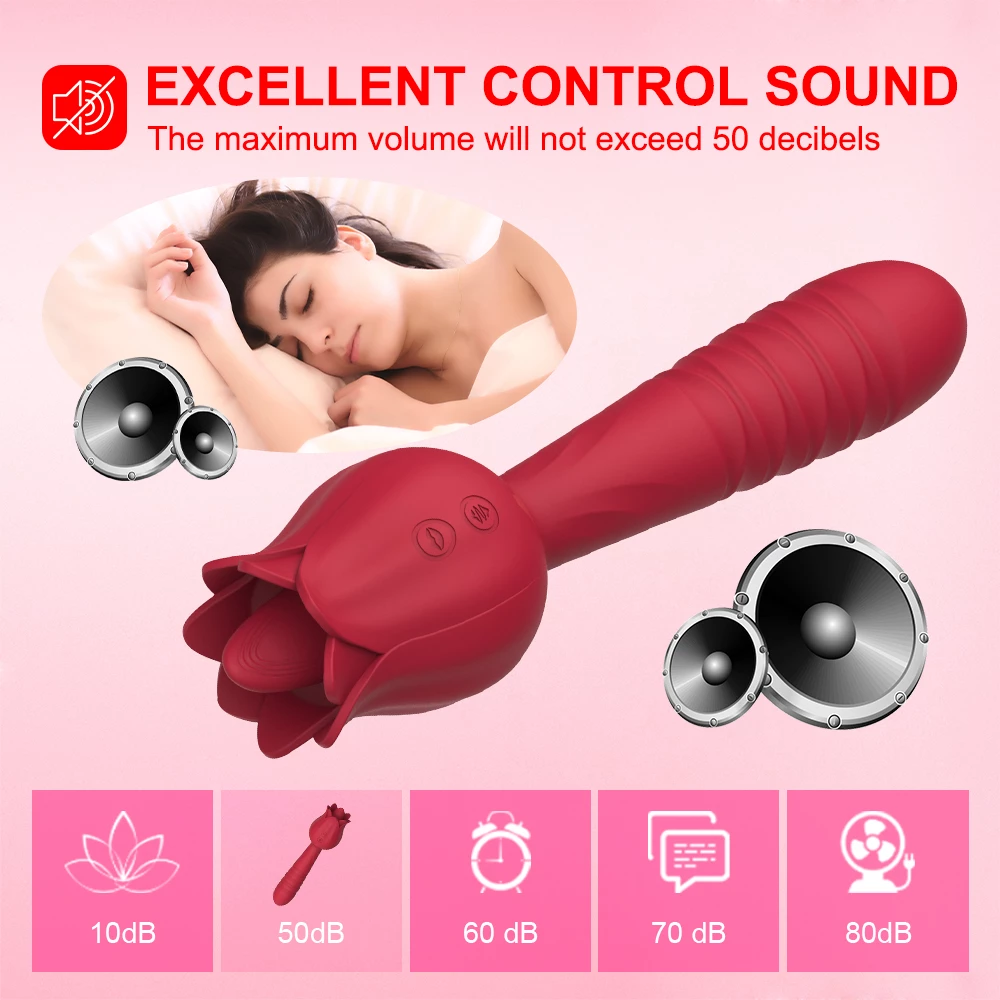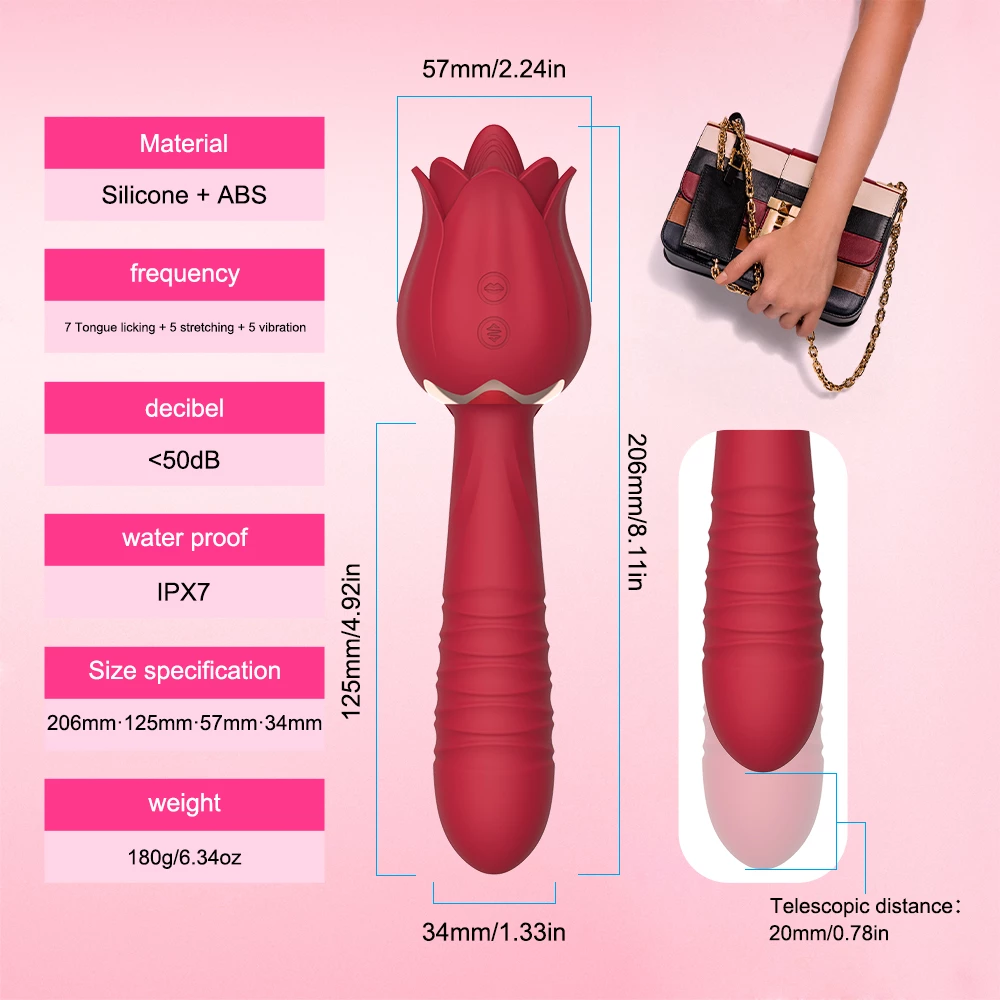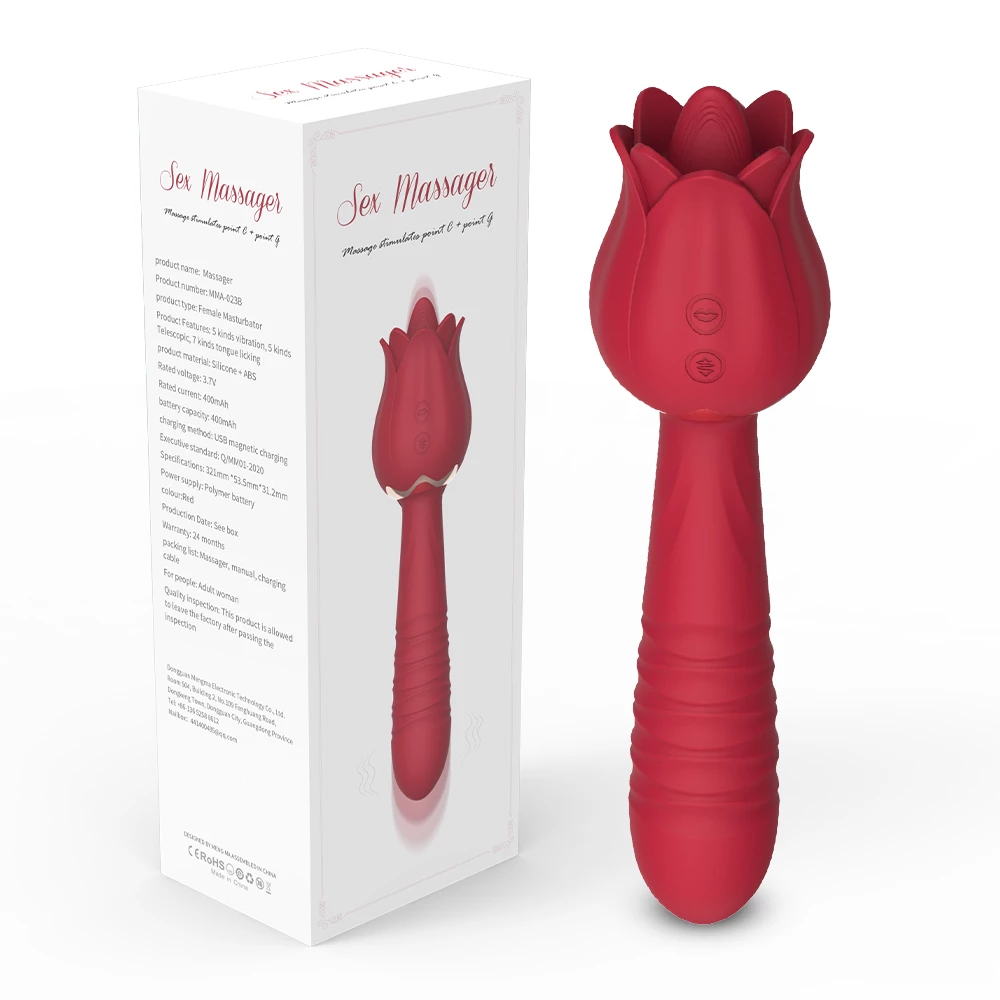 Thrusting Rose Toy With Dildo Spec:
Item Type: Female Rose Vibration Massager
Color: Red
Silicone: Abs+silicone
Frequency: 17 Vibration
Specifications: 206mm/8.11in, 125mm/4.92in, 57mm/2.24in, 34mm/1.33in
Weight: Without Box: 180g/6.34oz With Box 247g
Charging: USB Magnetic Charging
Decibel: <50db
Waterproof: Ipx7
Applicable: Female
Function: Tongue Licking, Vibration, Stretch
Thrusting Rose Toy With Dildo Features
3-in-1 Rose Toy: The thrusting rose toy is a three-in-one fun toy. Thrusting rose toys' functions include licking the tongue, stretching, and vibrating. The thrusting rose toy's tongue-licking function is like a natural person giving you oral sex. The thrusting rose toy's stretching and vibrating mode are like a partner's hand caressing your private place. In addition, the thrusting rose toy also has five expansion modes, five vibration modes, and seven tongue-licking modes. A total of 17 modes provide high-quality sex, waiting for you and your partner to explore. 
USB Magnetic Fast Charging: The thrusting rose toy's charging design is USB magnetic. You can change the thrusting rose toy by aligning it with the magnetic suction port. USB magnetic fast charging is applied to various scenes in life. For example, car chargers, laptops, computer terminals, power packs, USB chargers, etc. You don't have to worry about power failure during sex. And the thrusting rose toy
 can be quickly charged anytime, anywhere to meet your sexual needs. 
IPX7 Waterproof Design: Thrusting rose toys' waterproof design can reach IPX7 waterproof design. This design is conducive to cleaning it and can increase the pleasure of sex in water. You can wash it as much as you like without worrying about water entering its engine. You can also enjoy the orgasm in the water, for example, in the private pool and bathroom. 
Excellent Control Sound: The thrusting rose toy's outstanding aspect is also reflected in its excellent sound control level. The thrusting rose toy's maximum volume will not exceed 50 decibels, which is the voice of indoor chat. This means that even if you use the thrusting rose toy in front of others, no one will find that you are using it. 
Safe Skin-friendly Material: The thrusting rose toy's main body is made of safe skin-friendly materials. Thrusting rose toy's skin-friendly part is made of medical grade liquid silica gel and ABS material, non-toxic and odorless, which will not cause damage to your pubic region. If you wash the thrusting rose toy properly, there will be no risk of bacterial infection, so you can use it more confidently. 
Confidential Delivery: We are not only in pursuit of the thrusting rose toy, but we also guarantee strict delivery confidential delivery to ensure product quality but also to ensure your privacy needs. No one will be able to know what you bought through the packaging.