Vibration toys in the category of sex toys refer to appliances that stimulate the human body and skin by vibration. Sexy toys stimulate the nerves touching the skin to make the human body happy. Some newspapers in the early 20th century had already appeared advertisements for sex toys. In the West, the history of treating some diseases of women with sexual stimulation has lasted for hundreds of years.
Sex products have been developed for many years. The material is metal at first, which easily damages the vagina. So far, most sex toys are made of silica gel, which is safe, non-toxic, and tasteless. So far, there are many sex toys, but the most popular is the rose sex toy. In the past year, the rose toy has caused explosive high popularity on various social platforms. Many users and sex experts have greatly praised rose sex toys.
A Rose sex toy, as its name implies, is a sex toy made in the shape of a rose. Most making materials for rose toys are safe and non-toxic silicone. Rose toys first appeared in China and later became widely known and popular through TikTok. Since then, all major social platforms have paid attention to rose sex toys, which have become the most popular sex toys in 2021.
The higher the popularity of a commodity, the more uneven its quality will be, as with rose toys. Although rose toys are popular, many users still do not know much about them, leading to users buying poor-quality products. To avoid this, you must know some information about rose toys.
What Are the Rose Toys?
Rose represents warm love, and the shape design inspiration of rose toys is derived from roses in nature. At the same time, the rose-shaped toy is designed to express the hot love between partners and perfectly integrates pulse technology, vibration function, and sucking function. Rose sex toys can not only stimulate the genitals but also stimulate other sensitive parts of the body, adding more fun for sex. We have designed a series of rose toys with different functions to meet the different users' needs.
Advantages of Rose Toys
. Rose toys are made of safe and non-toxic silicone materials. They are soft, harmless, and easy to clean.
. Small size, easy to carry.
. You can use a high-grade waterproof design in the bathroom or swimming pool, and easy to clean.
. Mute design. The highest sound shall not exceed 50 decibels.
. A variety of stimulation modes. You can get unique sexual pleasure by customizing your favorite stimulation mode.
. USB charging is convenient and fast.
. Private delivery, high privacy.
. Simple operation.
Functions and Types of the Rose Toys
After a long development period, rose toys have different functions and types. There are rose toys specially designed to stimulate the clitoris and rose toys specially designed to stimulate the vagina. At the same time, different types of rose toys can also adjust different interest modes, bringing users different sexual experiences.
What is the Best Rose Toy?
After engaging in 150 hours of extensive investigation and experimentation, we have concluded that the best rose toy is the ten gears rose toy. Moreover, this device exhibits remarkable efficacy as a full-body massage apparatus.
If you want to decide by yourself which rose toy is best? We invite you to peruse the following composition.
10 Gears Rose Toy Vibrator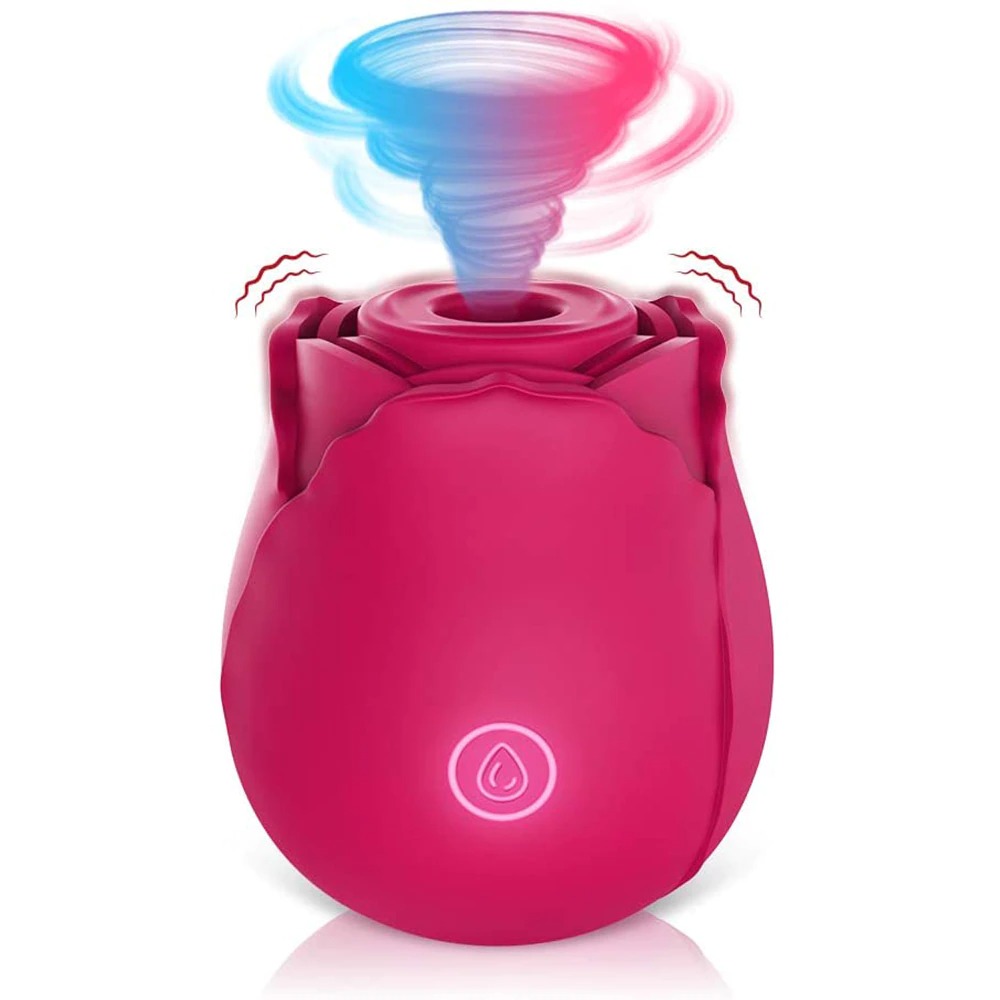 This is a relatively basic rose toy. Its primary function is designed to suck. Users can use it to suck the clitoris. Its shape is very similar to a rose, like a rose-shaped ornament. It has ten gears, seven powerful suction cups, USB magnetic charging, is 100% waterproof, and is a perfect gift for female partners.
Rose Licker Vibrator With G-spot Dildo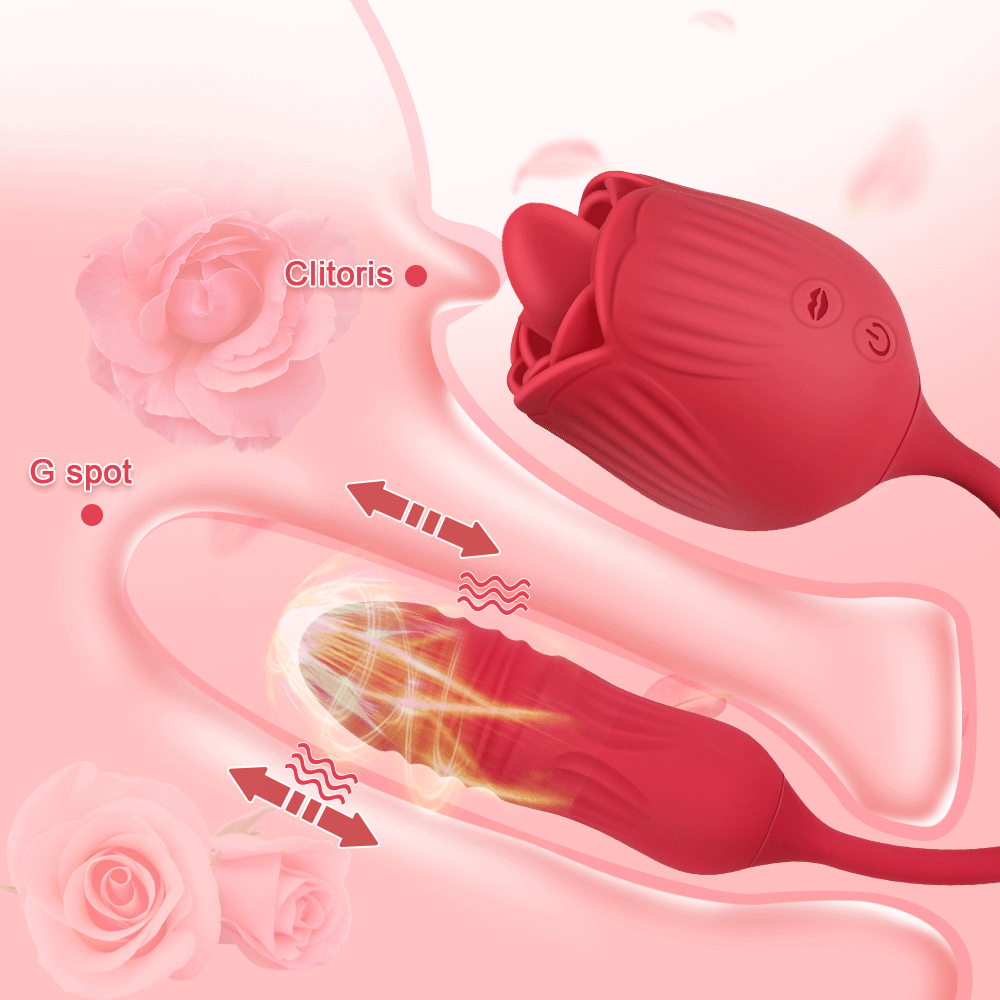 The rose licker vibrator with G-Spot dildo has a rose-shaped vaginal lick and a dildo. The rose part is designed with a mini clitoral simulator, which can precisely stimulate the user's pudenda and bring excellent sexual stimulation to the user. In addition, this vibrator has ten vibration speeds and ten different pulsation modes, which users, at their discretion, can adjust. It is also made of safe and non-toxic nonporous silica gel, which has a good skin feel and is easy to clean.
Rose Sex Toy Vibrator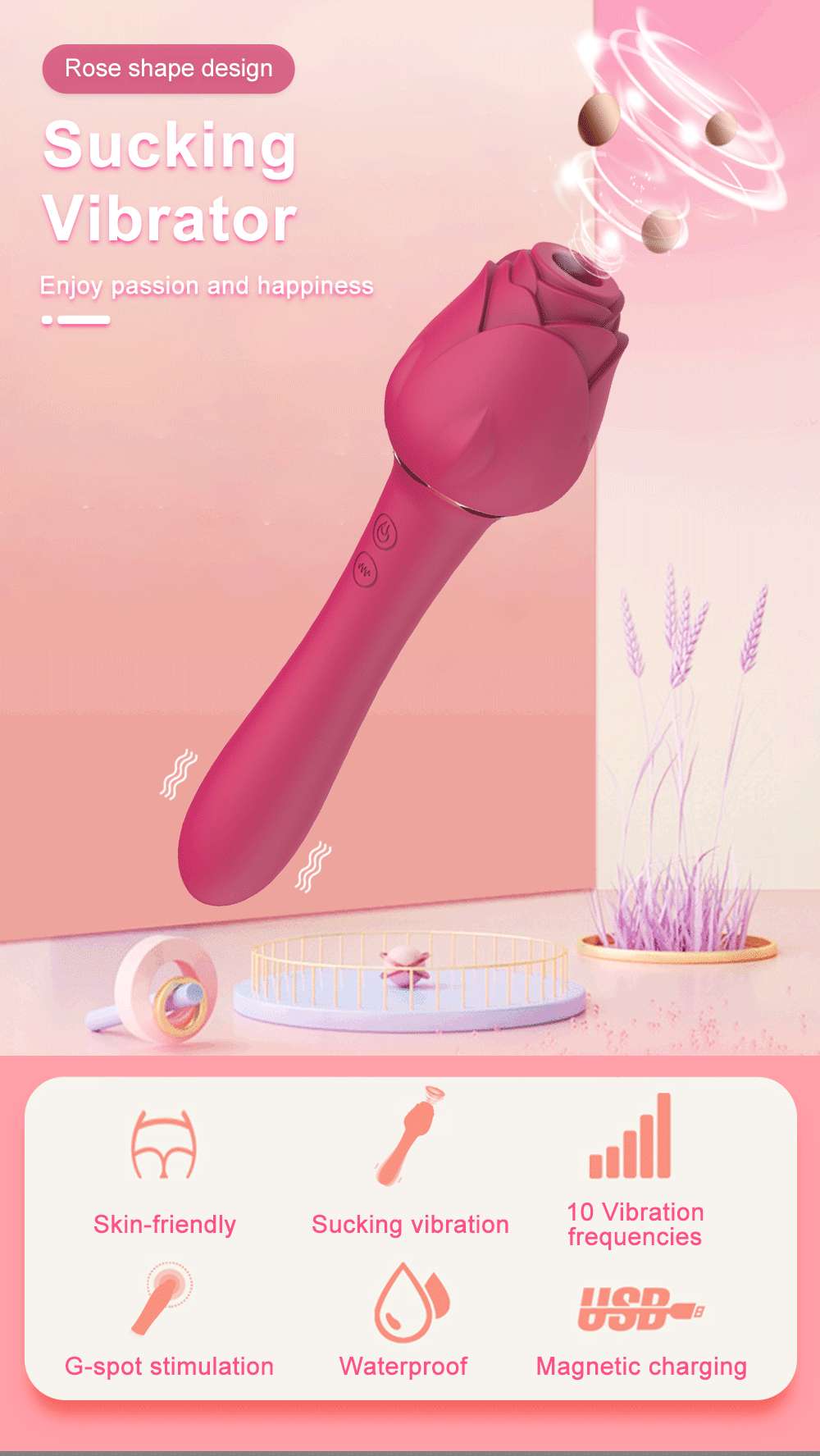 Rose sex toy vibrator has two main functions, one is clitoral aspiration, and the other is vibration stimulation. It can act on the penis and clitoris to meet the other half's needs. When the clitoral vibrator surrounds your clitoris or nipple, you can feel that the rose-shaped sucker acts on the clitoris and nipple. The smaller rose petals can stimulate the clitoris more accurately.
Clit and G Spot Vibrator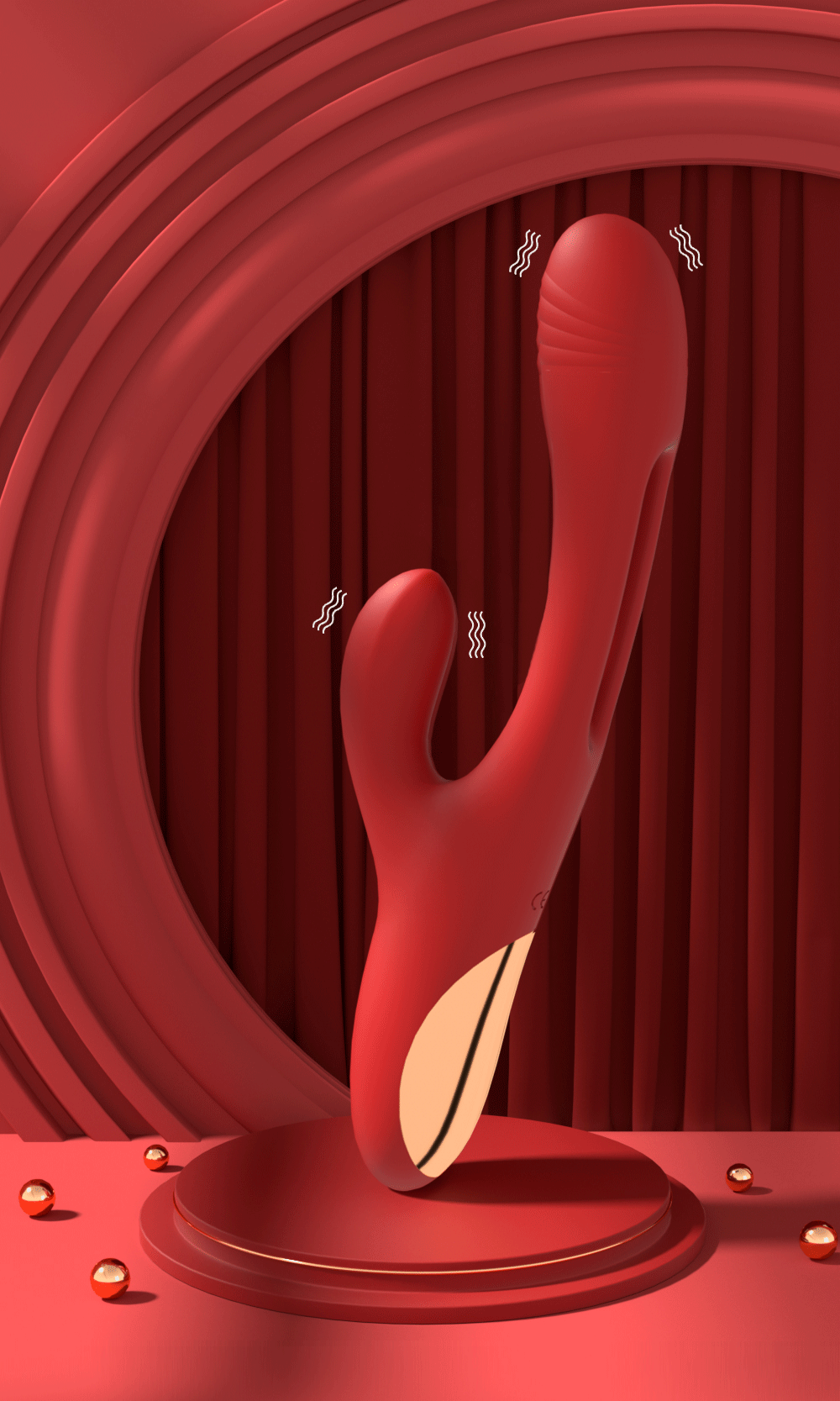 Clit and g spot vibrator is a powerful vibrator with three-in-one functions. When you use it, you feel like you are having real sex. Clit and g spot vibrator has double stimulation and triple pleasure. Clit and g spot vibrator is convenient to switch and use. Clit and g spot vibrator's contact with the skin is soft silicone. Clit and g spot vibrators can also meet a long service time of 60-90 minutes when fully charged.
G-spot Rabbit Vibrator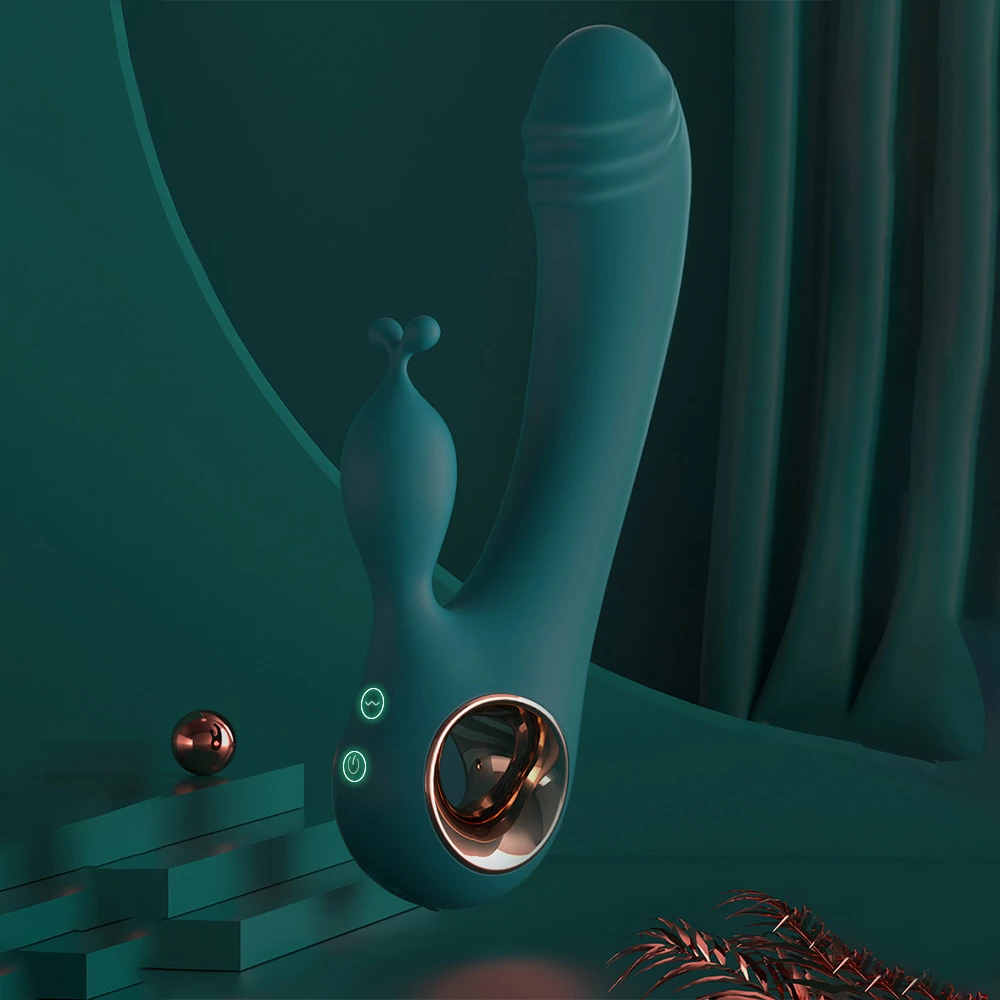 The G-spot rabbit vibrator has many advantages. The G-spot rabbit vibrator has ten frequency modes that users can adjust. One-click vibration can be achieved with only one button, making you reach the climax crazily. The G-spot rabbit vibrator has dark green and pink colors, which are suitable for the perfect gift for yourself or your lover. In terms of materials, the G-spot rabbit vibrator is made of silica gel material and ABS material, which is safe and soft. The power supply is a lithium battery.
What Makes Our Sex Toys So Outstanding
Outline Design
The most representative feature of the rose toy is its elegant appearance design. The rose-shaped design is beautiful to every woman. And it is small, easy to carry, and very suitable for bringing in a handbag. In addition, the rose toy has an elegant shape and can be used entirely as an artistic decoration. No one will know its essential role.
Fabrication Materials
Our rose toys are mostly made of medical-grade silicone and ABS materials, which are soft and smooth to the touch, providing users with a comfortable experience. In addition, this material can also ensure the product's safety, primarily when we use it in the private parts of the human body, so the material is safer and more reassuring.
Multiple Adjustment Modes
Our rose toys are designed with about ten suction or vibration modes. Users can continuously stimulate the clitoris by adjusting different suction modes, intensity, speed, and rhythm. You can easily switch these modes with a small button, which You can also use to open or close toys. You can quickly find the most suitable stimulation mode and reach the climax with rose toys.
Waterproof Design
Most of our rose toys are waterproof. This means that users can use them in scenes with water, such as swimming pools or bathrooms. And You can easily clean them with water.
How to Use Rose Toys?
Check the condition of packaging and products upon receipt.
Make sure the toy is fully charged before use.
Read the user manual and be familiar with the operation buttons.
Press and hold the power button for 3 seconds to switch.
Short press to switch between stimulation mode or vibration mode.
Remember to apply lubricating oil on toys and skin before use to reduce friction and help you experience new feelings and experiences.
When using rose toys at the beginning, it is best to stimulate the genitals with the lowest stimulation gear and then move to the next gear after you are used to it.
You can try the rose toy in any other sensitive area of the body, but you will get the most pleasure in the clitoris and vagina.
Here are some tips to help you master the use of rose toys as soon as possible:
1. Adjust the distance and angle between the rose toy and the stimulating part according to your preference.
2. Try to adjust different modes until you find the mode you like.
3. If you feel uncomfortable using rose toys, please reduce the intensity or stop using them.
4. Please clean in time after use to avoid bacterial infection.
Please remember that different rose toys have other functions, so they may be very different when you use them.
Discover eight essential tips for getting the most out of your rose toy in our must-read guide.
Transform your bath time into a luxurious experience with our expertly-crafted guide featuring six essential steps for using your rose toy.
Concluding Remarks
The ultimate goal of producing rose sex toys is to improve everyone's sex life. The public knows it because of its rose-like appearance, and its function and design constantly improve. Rose Toy Store sincerely hopes more people can learn and try rose toys. We believe that rose toys will become the favorite sex toy for users.