The rose clit sucker & tongue vibrator is a popular choice for those seeking a unique and intense experience. Unlike many clitoral vibrators that only provide one type of stimulation, this vibrator offers a 2-in-1 experience with both a soft, smooth tongue and an air pulse stimulator. The tongue can be used to stimulate any part of the body, while the air pulse stimulator is designed to provide targeted and intense pleasure to the clitoris and nipples. With this vibrator, users can achieve an intense orgasm on their own without the need for a partner.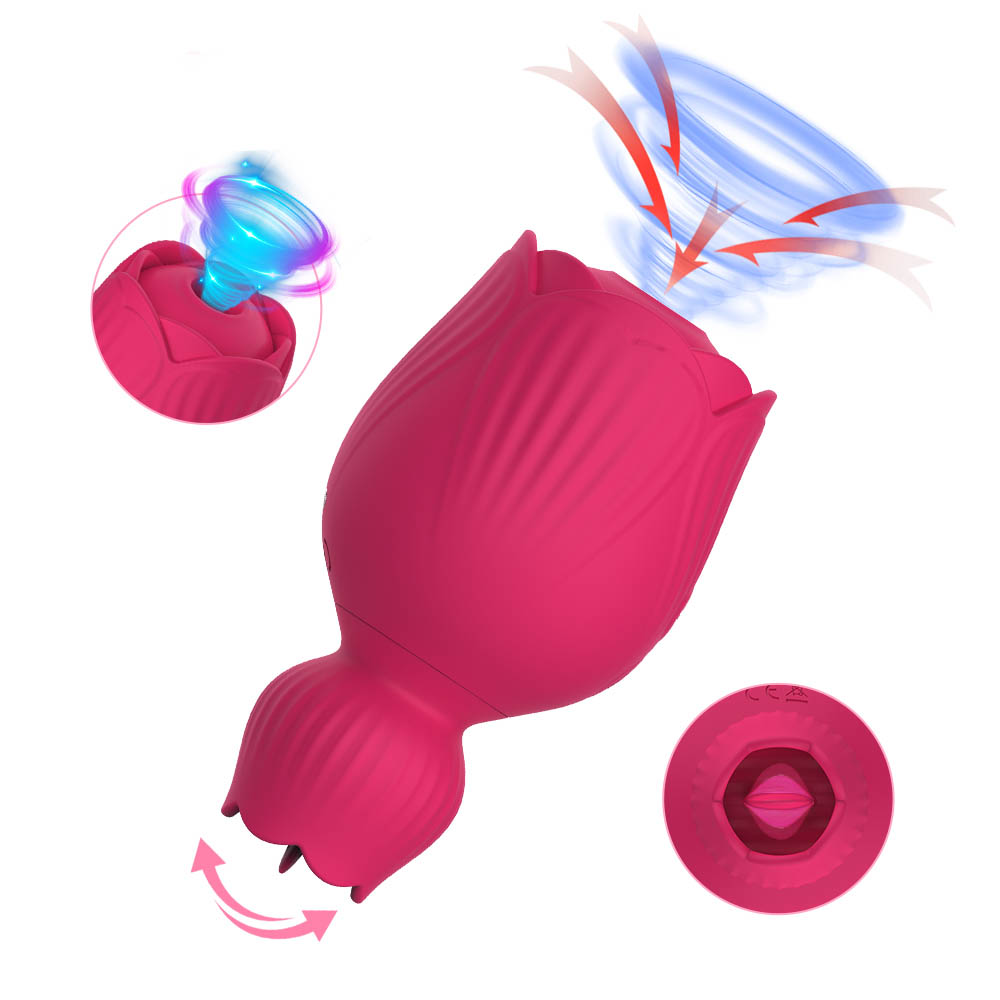 The Rose Clit Sucker & Tongue Vibrator is a luxurious clitoral vibrator that offers a unique and intense experience. It features three levels of intensity and seven suction patterns that provide complete satisfaction. The tongue vibrator is made with a soft and velvety material and has a handy tongue tip that provides precise stimulation. The ten licking patterns offer endless play modes, making every experience different and exciting.
Using this toy, you can get the feeling of oral sex and experience knee-thrilling orgasms without a partner. It's easy to use by hovering the rose or placing it on the clitoris. Listen to your body, and it will tell you what it needs. So, if you want more intense and pleasurable orgasms, this little device is definitely worth a try!
Specifiche
Come ti soddisfa: 10 modalità di aspirazione e dieci modalità di leccata di lingua
Materiale: silicone e ABS sicuri per il corpo
Colore: rosso rosa
Dimensioni e peso: 3,8*2,0 pollici, 126g
Tempo di lavoro e tempo di ricarica: 50 minuti di lavoro per 120 minuti di ricarica
Livello di rumore: <58dB
Prestazioni impermeabili: IPX7
Il succhia clitoride Rose è adatto a voi?
It is true that opening and unboxing a new sex toy can bring a sense of excitement and anticipation. The rose clit sucker & tongue vibrator is a great choice for anyone who enjoys clitoral stimulation, and it can be a wonderful gift for a partner or even for oneself.
Investing in sexual satisfaction is essential for one's overall health and well-being, and this toy can provide unique and pleasurable experiences. Don't hesitate to treat yourself or your loved one to this delightful and luxurious toy.
Come usarlo?
The rose clit sucker & tongue vibrator is designed with a user-friendly double button that allows you to control the toy easily. Two buttons control the upper rosebud and the lower rose tongue – one for turning it on/off, and the other for switching between different vibration patterns.
To turn on/off the rose clit sucker or the rose tongue vibrator, hold the button for 3 seconds. To switch between different modes and intensities, simply press the button. With this intuitive design, you can easily find the perfect stimulation mode that suits your preferences.
Suggerimenti per la masturbazione della rosa Succhiatore di clitoride e vibratore con lingua
Ecco i consigli per migliorare il piacere di sé
Regolare la posizione
The rose clit sucker & tongue vibrator may be designed for clitoral stimulation, but that doesn't mean it can't bring pleasure to other erogenous zones on your body. Experiment by placing the rose toy on your labia, nipples, or perineum, and any other sensitive spots that come to mind. Exploring your or your partner's body in this way is one of the best ways to deepen your understanding of how it feels, and you might even discover new pleasure zones you never knew existed before! The moans and gasps that follow could lead you to a whole new world of pleasure.
Doccia
Using the rose clit sucker & tongue vibrator in the shower or bath is a great way to add extra stimulation and excitement to your self-love routine. However, it's important to make sure that the toy is waterproof before bringing it into the water. It could be damaged or even cause harm if it is not waterproof. Always check the product information or ask the manufacturer before using any rose toy in water.
Additionally, using water-based lubricant instead of silicone or oil-based lubricants is recommended when using the rose toy in the water, as it can help prevent any potential irritation or damage to the toy.
Utilizzare con l'altro giocattolo sessuale
Combining the pleasure of the rose clit sucker & tongue vibrator with another rose toy, such as a G-Spot vibrator, can take your orgasm to the next level. You can insert the G-Spot vibrator into your vagina while using the rose clit sucker & tongue vibrator to stimulate your clitoris for a blended orgasm. With its unique design, 20 pleasure modes, and waterproof feature, the possibilities for pleasure with this toy are endless. Check out the Rose Toy Official Store for more information on the rose clit sucker & tongue vibrator.
For more about the rose clit sucker & tongue vibrator, please visit Rose Toy Official Store.
Per un contenuto correlato, consultare il sito: