Both the Rose Toy with Vibrating Egg for Women and the Tongue rose toy with vibrating egg are the rose toy with a bullet, this kind of rose toy is not only a fashionable and eye-catching addition to your toy box but also a multifunctional replenishment to your whole body's pleasure demands.
How Does the Rose Toy With Bullet Work?
As you can see, These rose toys with a bullet are multifunctional sex toys. The only thing we shall not do is make it a routine game with them. The rose head allows you to travel through your body and explore all of your erogenous zones; after complete arousal, show time for the vibrating egg at the tail end.
Insert it into the vagina for internal stimulation, or if you are an anal play lover, try it in your anus. And to maximize the pleasure and bring the game to a higher level, stimulate the clitoris while having the vibrating egg roll inside your body.
Related Post: How Does the Rose Vibrator Working? 
Rose Toy With Vibrating Egg for Women Specifications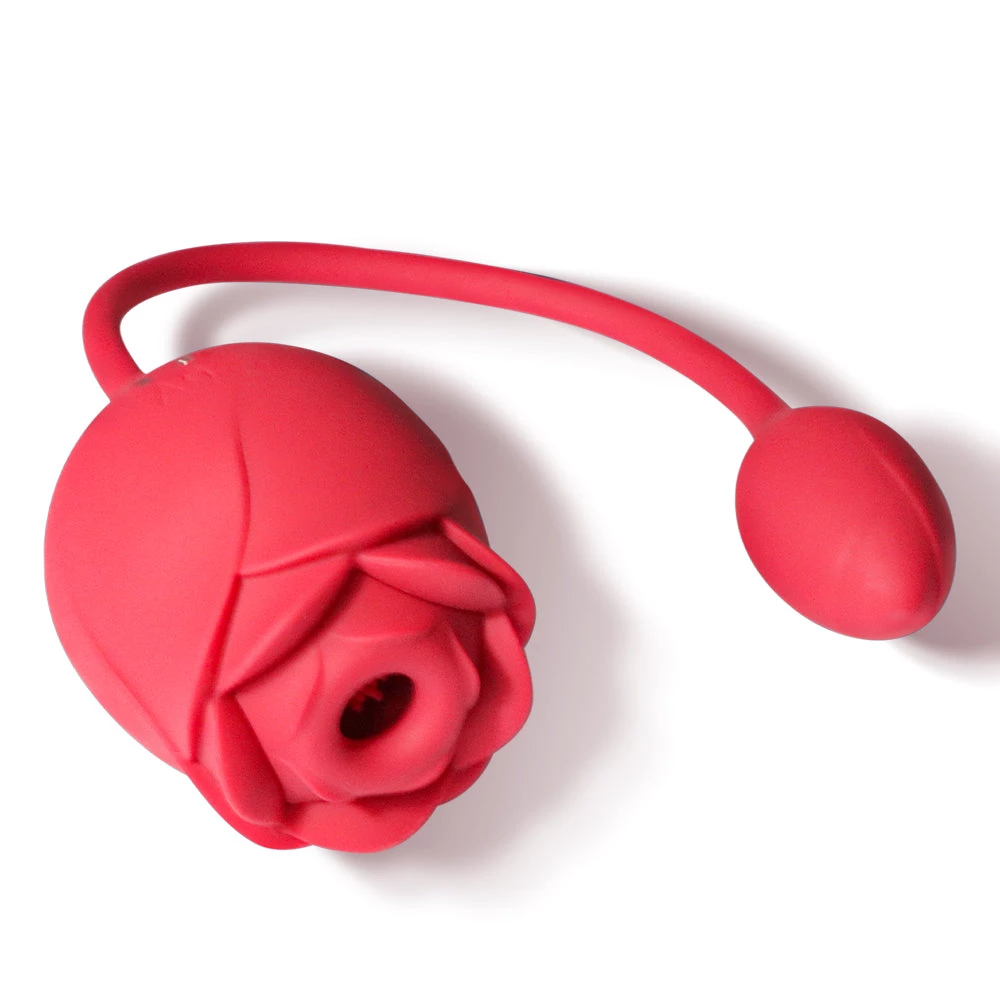 Primary material: ABS+Body-safe silicone
Vibration frequency: 1*9 vibration modes + 1*9 suction modes + 1*9 tapping modes
Weight: 128.5g
Size: 13*2.2*2.2 inches
Battery capacity: Lithium battery 3.7V/320mAh
Charging time: 70 minutes
Working time: 30~110 minutes
Charging mode: Magnetic suction USB charging
Maximum noise: <50dB
Waterproof performance: IPX7
Tongue Rose Toy With Vibrating Egg Specifications
How it pleases you: 9 different tongue-licking modes, plus 9 vibrating modes
Material: Body-safe silicone, ABS
Size & Weight: 13*2*2 inches, connecting wire 8 inches, 129g
Waterproof performance: IPX7
Noise Level: <50dB (low)
How long does it work: 30~110 minutes of working time per 70 minutes of charging
Charging and Battery: Magnetic USB Charging, 3.7V/320mAh lithium battery
The Main Differences
The Rose Toy with Vibrating Egg for Women is stupendously featured with 27 stimulation modes. The suction mouth on the rose head is detachable. This is how two ecstatic stimulating ways combined in one compact rose: it sucks in 9 patterns with the suction mouth on and taps in 9 modes – in a more direct way – when you remove the suction head.
The Tongue rose toy with a vibrating egg has 18 stimulation modes. The rose head is featured with 9 tongue-licking modes, giving a real oral sex thrill that you can not refuse.
The huge difference between them is the difference in the technologies. The Rose Toy with Vibrating Egg for Women has adopted the air pulse suction technology – the innovative technology in the sex toy industry – generating the 9 patterns of powerful air suction by the inner vibrating motor and stimulating your sexy spots indirectly.
Imagine it, and this is always a spicy scene, that your partner is down there and sucking your whole vulva and clitoris with the mouth.
Which is Better for You?
Well, they are pretty similar to the rose toys with the vibrating egg, from the rose-designed appearance to the size, weight, and functions. So the key to selecting the rose for you is to know about the technology.
If you have a sensitive clitoris, the air pulse suction stimulation of the Rose Toy with Vibrating Egg for Women may make you feel refreshed. If you are more into direct stimulation, the Tongue rose toy with a vibrating egg is right for you.