We deeply know that to achieve an orgasm. There are several ways to stimulate ourselves. Although the same organ creates orgasms in the human body, they could be individualized for everyone.
Our body is full of nerves. Any of them could be the sexually sensitive one – that's what we call the erogenous zones – and could be the key to the door through the climax. However, as research shows, most vulva owners need external stimulation to their clitoris to get orgasms.
But we are not saying that the way you stimulate the clitoris must be the same. That's why the Rose Toy Official Store has designed many distinct types of roes toys to satisfy different needs.
For example, the rose toys with tongue keeps the design of the rose flower shape, which is adorable.
At the same time, it's an oral sex stimulator because we know that every Queen deserves a moist warm tongue to slide on your sweet clitoris, especially on a cold winter night when you want to do something good to yourself. What can be better than a sex toy mimicking your lover's tongue?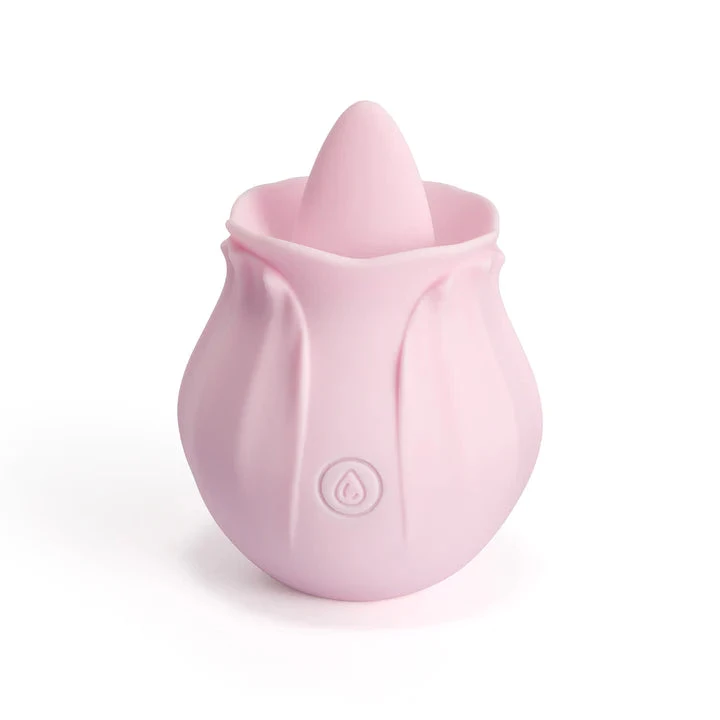 The rose toy with the tongue is a new toy that provides a different clitoral stimulation experience. It's a fashionable rose flower appearance and is compact, so you can easily hold it in your palm or carry it around in your purse.
It's made of body-safe silicone material, so it's soft and smooth. The rose toy with the tongue is a lovely and elegant product.
Don't be fooled by its cute design. It's 25% faster than a natural tongue (or faster), which can bring you a realistic but better oral sex experience.
This rose toy is featured ten licking patterns. The soft and smooth tongue can lick you from slow to fast, gentle to intense, and you can set the licking modes according to your preference.
Like any other rose toy, the rose toy with a tongue can barely be heard while working. The tested noise level is lower than 60dB; it also has adopted magnetic charging technology, and its entire body is waterproof, which means you can use it anytime and anywhere.
Is it a suitable toy for you?
It's a toy perfect for everyone who likes oral sex and clitoral stimulation. With its soft and elegant tongue, every single lick can just completely fit your whole vulva, while the tip of the tongue teases right on your clitoris to make sure you are going to have an extreme oral sex journey.
So for every vulva owner wanting to learn more about her own body, this adorable but powerful rose is 10/10 recommended.
And if you know that oral love can give you orgasms, this rose toy with tongue could also be your best choice. With only a straightforward control button, you can try the licking patterns in 10 different modes one by one, and you can stick to the one when you find that it can give what you want.
How to use the rose toy with tongue?
Take it easy, you will find it really easy to operate when you get that sweet rose toy with a tongue, and you will be surprised by how rapidly this rose is included in your daily life.
Press and hold for 3 seconds to turn on the rose toy
Short press to switch different intensities and speed
Make sure it's fully charged before using it, and it's suggested 60 minutes before you use it for the first time. And you don't need to go direct to the highest setting level for your first try. Keep it slow, and start with the lowest setting.
Besides, please use the rose toy with the lubricant. The tongue of the rose sex toy is too soft and smooth to hurt your skin but to maximize pleasure. It will be necessary to use some water-based lubricant.
For more information, please read: How to Use The Rose Toy?
Some tips for you to use the rose toy with the tongue:
Keep adjusting the angle and try every intensity. Once you feel it's too strong for you, please take it away and slow it down until you find your favorite passion that can make you feel pleasure.
Make this rose a little prop in the sex play of you and your lover. Let it join the foreplay. This tongue can not only lick the clitoris to the orgasm but also can tease the penis – may be the glans – to get the shaft hard. The spicy oral play is for both of you in the game.
Take it to your bathroom. Why not? The rose toy with the tongue is waterproof anyway, don't waste it. So enjoy the bath with it in the bathtub, and get a full release after a long rough day.
Use the rose toy on your playmate, let him/she use it on you, or let your playmate watch you using it on yourself. Anything that pops into your mind, just give it a try.
Well, you don't have to use it only when you are masturbating or when you have your lover by your side. What about a video call when you are apart away from each other? Yes, you can still share that sexy moment, watch your partner masturbate with the tongue rose toy, or let him/her watch you play with it by the camera. Believe me. This will make you even closer than the days you are together every day.
Clean it after using
How to clean the rose toy with a tongue?
It's pretty easy to clean the rose toy with your tongue. Easy cleaning with soap and water to the whole body, the tongue, and the petals will be enough. It's better not to use the hard brush on the rose toy.
The hard bristles might hurt and scrape the silicone surface of the rose. Avoid having the toy under the strong sunlight for too long, and you have better rest it for some hours after the cleaning if you want to charge it.
For related content, check out: